In recent years, with the advances of technology, the flow meter is also updated. All types of flow meter are widely applied to industrial production, commercial and water conservancy flow monitor and so on. In order to meet the demand of market, Lanry Instrument launched a new product: dual-channel ultrasonic flow meter in early of 2022.  
Dual channel ultrasonic flow meter includes two types: TF1100-DC dual channel ultrasonic clamp-on flow meter and TF1100-DI dual channel insertion ultrasonic flow meter. Both of them with
Not only is the TF1100-DC ultrasonic flowmeter rugged and reliable, but it is also precise. Thanks to carefully matched and temperature sensor PT1000,it can also be used as a thermal flowmeter. And the new advanced technology offers an unmatched zero-point stability and precise bi-directional flow measurement of virtually any liquid media - such as oil, chemical industry, water supply, waste water industry, HVAC application, beverage factory and so forth.
The TF1100-DC/DI flow meter can be applied on inner pipe diameters ranging from 3/4 inch up to 240 inches (no limitations on pipe wall thickness or material) and media temperatures from -35 °C up to 200°C.
With two measurement channels, the TF1100-DC flow meter is also ideal for difficult measurement points with non-ideal flow profiles. 
With its IP66 protection class housing and the corrosion resistant IP67/68 aluminum or stainless steel SUS304 sensors residing outside the pipe wall for clamp on flow meter. the Lanry TF1100-DC/DI series is perfectly suited for every demanding industrial application.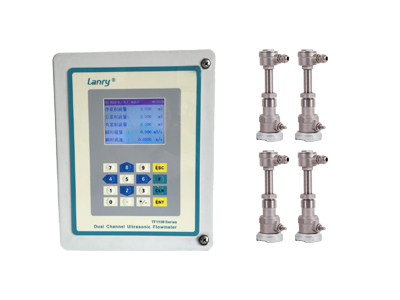 TF1100-DC Dual channel Ultrasonic Flowmeter (Clamp on type)
TF1100-DI Dual channel Ultrasonic Flowmeter ( Insertion type)
Compared with single channel flow meter, advantages of two channels Ultrasonic Flow Meter:
1. Higher accuracy flow measurement in liquid, dual channel flow meter is 0.5% (by two pairs of sensors),single channel flow meter is 1% ( by one pair of sensors ).
2. The ability of Dual channel water flow meter is better to adapt different fluid states than single channel meter.
3. Double channel flow meter can be suitable for big diameter pipe duct.
4. Two channels flow meter can be measured by single and double paths at the same time, it can trigger automatically to another way to measurement based on the signal intensity when one of two channels is abnormal or no signal.
5. Excellent dynamic zero-point stability.
---
Post time: May-18-2022